BACKWOODS
High Level Enterprise Functionality at a Fraction of the Price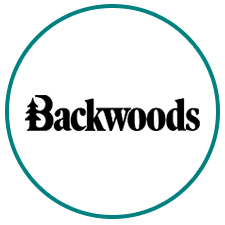 Competing in a very tight market with companies that have ten times the budget, this company needed to leverage store inventories and move seasonal product quickly using an e-commerce site that offered highly customizable functionality that took the pain out of e-commerce.

WHO IS BACKWOODS?
Backwoods is a sport equipment company founded in Wichita, Kansas in 1973 by Lewis Mull. The family-owned business grew in popularity and opened additional stores across the Southwest, having 13 brick and mortar locations in the 80s. Now, the company is headquartered in Austin, Texas, and the daughter of the original owner, Jennifer Mull, is the CEO.
In 2008, recognizing the need to compete on a larger scale, the company hired Matthew Carver as their e-commerce director to bring the store into the world of online shopping. When Matt started, the company had 10 brick and mortar locations throughout the Midwest and a loyal customer following at the physical locations. Prior to the company's e-commerce efforts, they had a print mailer, but Matt was tasked with bringing the company's website into the e-commerce arena to compete on a larger scale. To this challenge, he brought a vast knowledge of back-end operations and an in-depth understanding of optimization and conversion, having previously worked for a company that conducted enterprise analytics.
Matt's research led him to ShopSite, and he developed a successful e-commerce site on his own. However, he was struggling to keep up with product loads, and was only able to manage a few thousand SKUs. He was literally bogged down in product updates and too unfamiliar with the ShopSite platform to believe it could provide the functionality the store would need going forward. Frustrated by his inability to find someone who really understood ShopSite – to the point of considering a major investment in an enterprise platform that would have cost in excess of $150,000 – Matt found Merchant Corner.
... INCREASE in visitor conversion.
... REDUCTION in customer bounce rate.
... INCREASE in on-line revenues
"I thought I knew everything I needed to know to create a viable e-commerce site, but Merchant Corner provided me with additional perspective and an in-depth expertise in ShopSite customization. Merchant Corner showed me that when you compare ROI, you can actually get more out of ShopSite with custom development at a fraction of the cost. The benefits that Merchant Corner provides for e-commerce are real and measurable.
Merchant Corner make ShopSite function like an enterprise cart for a fraction of the cost. Merchant Corner makes it possible for smaller companies to compete on an enterprise scale without having to have an enterprise budget."
IDENTIFIED CHALLENGES
Matt's experience allowed him to succeed in creating a nicely designed store using ShopSite that was converting at just under one percent. Unfortunately, it was labor intensive, both because of the seasonal nature and rapid turnover of the Backwoods product line and because Matt's experience, while extensive, didn't extend to understanding how to customize ShopSite in a way that would work for the company long-term.
Matt knew exactly what he wanted the Backwoods shopping cart to do and thought he would have to go to a high-end enterprise cart to get the functionality he needed – something the Backwoods e-commerce budget wasn't ready to support. Backwoods needed their e-commerce site to be easy to update in house. With more than 20,000 SKUs that change with the season, it had to be something they could do quickly and easily without having to pay a developer each time the stock changed.
Backwoods had two primary goals beyond improved product builds. The first was to increase the conversion rate, effectively reducing their overall cost per sale when factoring in PPC advertising campaigns. The second was to attract new customers who were not already familiar with Backwoods from their brick and mortar locations.
Ideally, Backwoods needed to find a way to take the best practices and functionality of an enterprise level shopping cart and make it work in a ShopSite sized – and priced – setting.
Matt faced tough challenges in achieving the company's goals. As a privately owned company, the owners did not want the home page – often considered the most valuable landscape in an e-commerce site – to be a sales page.
SOLUTIONS IMPLEMENTED
Rapid SKU Updates and Addition
A critical goal for Backwoods was to be able to leverage the inventory of the brick and mortar stores by making it visible to their online consumers. The time and effort involved in updating the products on the back end, however, was costly and labor intensive. Merchant Corner customized the ShopSite platform to make adding products a simple process, then provided the company with access to training that allowed the company to quickly and easily ramp up not only the number of SKUs on the site but to keep up with seasonal changes with their product line
Enterprise Level Functionality
Because of Merchant Corner's expertise in ShopSite, Matt was able to communicate his vision and Merchant Corner could implement the functionality he was looking for. Merchant Corner assisted Backwoods in fusing a static cart with a dynamic search function – a best-of-both-worlds solution that allowed Backwoods to have the extraordinary functionality of an enterprise platform by offering a dynamic shopping experience without sacrificing the SEO benefit of a static cart.
The development and customizations provided by Merchant Corner has streamlined Backwoods' ability to get product online, increasing their capacity from around 1,500 SKUs to more than 20,000. Now the company is able to leverage their store inventories, making them visible to online customers so they can turn seasonal merchandise more quickly. The company will shortly realize its goal of being able to feature 100% of their SKUs online.
... INCREASE time visitors stay on website.
... INCREASE in page views.
120% increase in the number of transactions
198% increase in clicks to product page
Average time on site increased by more than 60 seconds
69% more page views at the category level
16% decrease in bounce rate
A decreased cost of Sale (COS) in Google Adwords of $20.47