CORPORATE SNOBS
Corporate Snobs is one of the most successful companies in the ad specialties industry that is 100% online.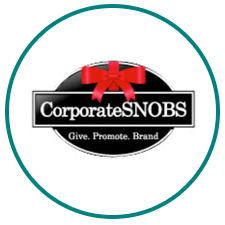 WHO IS CORPORATE SNOBS?
Leah Fairman was a civil engineer with a successful career. Unfortunately, she hated what she was doing and wanted to make a change. She had always wanted to be an entrepreneur, and when her husband bought her a computer (when home computers weren't in every home) she knew that she had found her way out of the detested job. She built a website using a template system offered by a well-known website and started selling.
Corporate Snobs is a retail site offering customized and creative corporate gifts and promotional products featuring company logos. Their target markets include everything from government agencies and small business owners to Fortune 500 companies. Their products are designed to help companies grow brand visibility.
Leah knew little about optimization, but was serious about achieving success and replacing her full-time job with an online income. She joined StomperNET, a premier membership organization filled with the Internet leaders and optimization experts, and learned about the importance of search engine ranking. By applying what she learned, she was able to grow her business to some degree, but it was still labor intensive and time-consuming.
She reached a crossroads where she would be forced to decide between her career as a Civil engineer and her home business. She knew that if she wanted to really succeed with her online business, she needed a better e-commerce solution that could be optimized and easily updated.
... INCREASE in annual sales.
... REDUCTION in store maintenance costs.
"Merchant Corner empowers people with the ability to easily manage and update their on-line store. The training videos they provide to their clients make the entire process simple enough anyone can do it.
We happily recommend Merchant Corner to all of our colleagues and entrepreneur friends who are looking for ways to improve their financial success and compete online. 
Merchant Corner makes it easy to manage our own store without needing to pay high maintenance costs or wasting a lot of time on updates, which has allowed us to expand our existing store and build another shop as well – and a third one is being developed. 
Merchant Corner transforms e-commerce with viable, long-term cost-effective solutions."
SIMPLE YET POWERFUL SOLUTIONS
This company's owner was tech-savvy enough to recognize the Internet was where the action was long before most, but her store was time-consuming to maintain and nearly impossible to optimize. Because it was also created using a proprietary language, it was difficult to find people to make needed changes to the site. It was time for a change.
IDENTIFIED CHALLENGES
When Leah decided to revolutionize her website, her first inclination was to seek support from her current shopping site service. Dissatisfied with the level of service and commitment she was able to obtain from them, and frustrated by the proprietary language they used in their templates, Leah knew she needed to start looking for other options. She turned to the experts at StomperNET for suggestions about who could help her create an ecommerce solution that would allow her to make that leap from employed to employer. More than once Merchant Corner were highly recommended.
Leah knew she needed what she calls "a solution made simple." Her existing site was too difficult to maintain, and because of that it was not being updated regularly, which meant she was not extending the reach of her brand as well as she knew she could. She needed an e-commerce solution that not only made it simple for her customers to use but was just as easy to maintain and administer.
Because Corporate Snobs is in a unique but competitive niche, the website also needed to be highly optimized to stay on the radar of the major search engines. Leah has an enormous skill set and had gained an in-depth understanding of optimization; it was critical she find someone who would listen to what she wanted and needed.
Merchant Corner worked with Corporate Snobs to build a site that would satisfy Leah's desire for optimization and easy maintenance. Leah appreciated the partnership-approach Merchant Corner took to the project.
SOLUTIONS IMPLEMENTED
Extreme optimization
The crucial factor for Corporate Snobs was optimization. Merchant designed an optimization solution that made customers and search engines happy. The visual aspects of the store provide an extraordinarily easy shopping experience, but behind the scenes, the optimized text is loading above other elements in the source code, making it easy for search engines to pick up the site for ranking. This solution was so effective that the website now holds the #1 slot on Google's search results for three of their main keywords, with others in the top five.

Easy-to-use design
Merchant Corner provided Corporate Snobs with a solution they could manage themselves. Even more important, they provided training videos that made it easy for Leah to understand how to manage her website. Because these videos made the process so easy to understand, she was eventually able to outsource the maintenance and updating work, freeing her to focus on business growth.

Interior page ranking
Most businesses in the ad specialties industry rely on traditional marketing, selling out of catalogs and making cold calls. Many do not even have a website. Because Merchant Corner was able to design a solution that optimizes not just the first page but interior pages as well, Corporate Snobs is one of the most successful companies in the ad specialties industry that is 100% online.
... INCREASE in annual sales.
... REDUCTION in store maintenance costs.
Before Merchant Corner, Corporate Snobs was slowly climbing on Google. With the solution Merchant Corner provided to load optimized text higher in the source code, Corporate Snobs now holds the #1 rank on Google for three of their top keywords.
Because the process is so simple and Merchant Corner provides easy-to-understand training videos, Leah has been able to outsource the tasks related to updating her site. The ease of management has also allowed her to nearly double the number of SKUs she offers in her store, growing sales by more than 600%.
Before Merchant Corner, it was taking an inordinate amount of time for Leah to update the site, add new products, and maintain the site. Merchant Corner provided solutions that allow Leah and her team to quickly build, manage, and maintain their store.