Hanks Clothing
Hanks Clothing doubles their total revenue and saves almost a $100,000 /yr by moving their mail order catalog online.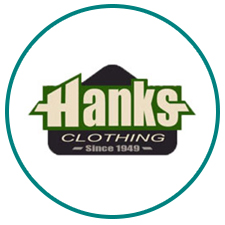 WHO IS HANKS CLOTHING?
Hanks Clothing has been in business since 1949 serving the clothing needs of the hard working man. They are known for their honest, fast, courteous service for their customers. Their unconditional guarantee is a testament to this dedication. They have built a great business!
MAKING THE LEAP TO ONLINE
Until 2005, Hanks Clothing was a retail and mail order company. Before working with Merchant Corner, they had an e-commerce site, but it did not have much impact on their business, only generating about 20% of their total revenue.
Knowing the potential of the Internet, Hanks Clothing did not settle for this level of success; they knew they should be doing a lot more business online. The company had a very robust infrastructure in place, and they needed an e-commerce site that could leverage it.
... INCREASE in on-line revenues
... REDUCTION in maintenance costs
When we asked Hanks Clothing what they liked best about us, their answer was simple:
"We like Merchant Corner because they get stuff done when it's supposed to be done. It's so hard to find somebody that can actually do what they say."
TRIED & FAILED
Hanks Clothing first attempts at developing the e-commerce side of their business were quite frustrating. They had invested significant time and money into their existing website and although orders were coming in they knew they should be doing much more volume with less work.
On the surface, the website's appearance was fine, but the more we looked, the more we could see the gaping holes.
It took staff members a very long time to keep the site up to date with new product information, which increased the cost of labor and took the staff's focus away from more profitable endeavors.

Because the site was not optimized for search engines, getting visitors was difficult.
Once visitors arrived at the site, the overall design of the site was unprofessional and uninviting. The poorly designed navigation made the site difficult to use, which directly affected their conversion rate. It took a large number of visitors to get a single buyer.
Finally, when Hanks Clothing received an order, it took a very long time to process since the website was separate from their existing infrastructure.
There was no big success in sight for Hanks Clothing's e-commerce trade without change.
THE SOLUTION
That's where we came in, and built that e-commerce site right! We got to work for Hanks, and here's a short list of what was accomplished:
We synchronized the e-commerce store to update with their pre-existing product management software that controlled the inventory in the retail store. By leveraging an existing system and process, updating the store became much quicker and easier.

We built their store using a set of smart templates, so when changes needed to be made, they only had to be made in one spot, and it automatically updated everything throughout the site.

The site was coded with built-in SEO, so every piece of text they put on the web site was working to attract visitors.

We re-designed the website's look and feel and improved the customer interface to increase Hanks Clothing's conversion rate

We connected their online order processing with their existing systems.
... INCREASE in on-line revenues
... REDUCTION in maintenance costs
MASSIVE RESULTS
Hanks Clothing was only missing a great e-commerce site, and that's what we delivered. Here are some of the marked improvements the company has experienced since working with Merchant Corner:
Increased online sales have allowed them to discontinue their mail order catalog, which saved them close to $100,000 /year.
Our optimization efforts quadrupled their online revenues, making their e-commerce site the primary revenue generator for their business.
By leveraging their product management software and automating inventory processes, Hanks Clothing has doubled the number of SKUs available on their e-commerce site.
By streamlining processes and employing a user-friendly interface, the staff can do double the maintenance work in half the time.