READ IN STYLE
Read In Style survives the economic decline, keeps their maintenance costs low, and benefits from top ranking keywords.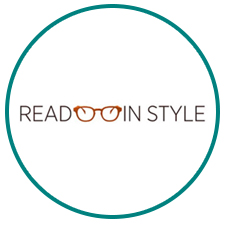 FREEDOM TO GROW
Frustrated with design limitations, time-consuming maintenance, and a lack of optimization, this company tried and partially succeeded with three different companies before discovering a solution that has freed them to grow the business and concentrate on customers.
WHO IS READ IN STYLE?
Cassia Cogger and her husband left their corporate IT jobs in Colorado to join the family business – a contact lens specialty business – in New York. Many of their customers still wore reading glasses with their contacts, and they kept a small supply on hand, but Cassia knew one thing about those reading glasses – they were ugly!
Read In Style was born from her desire to provide a fashionable solution for people who have to wear reading glasses. This specialty eyeglass shop selling stylish reading glasses and accessories online. Because Cassia had a background in electronics and IT, when she and her husband decided to launch the store, they felt comfortable building the store themselves using a well known template-based shopping cart. While the site provided them with a bit of extra spending money, it certainly wasn't becoming the online business they'd hoped it would be.
In an effort to improve sales and broaden their reach, Cassia then switched to a high-end service, but had even more problems with the new shopping cart because of the poor design of the back end that ultimately required more time than she and her husband could afford to spend on web maintenance. Desperate for a solution that would work, they fell victim to a private labeled service which they paid more than $1000 per month – only to see nothing in the way of results.
Over time, Cassia and her husband realized that if they truly wanted to be successful, they needed a solution that was easy for their customers to use, easy for them to manage, and most importantly, highly optimized. Read In Style needed an e-commerce solution that would make it easier for the owners to maintain the site and the shop's inventory without sacrificing the aesthetic appeal they had developed.
"Merchant Corner is responsive, always there for us and the ONLY place to we go for our store's development.  They empower you to take control of your own success – and give you the tools that make it easy.
The first step in e-commerce success is designing a site that will rank, and Merchant Corner has the expertise and talent to do it right – the first time. We've never had to worry about the success of our shop since letting Merchant Corner work their magic – we've been up and running without a hitch since!"
IDENTIFIED CHALLENGES
After being burned more than once on bad for business e-commerce solutions, Cassia and her husband decided their next e-commerce provider would be chosen based on recommendations from people they trusted. As members of StomperNet, one company stood out: Merchant Corner.
Pleasantly surprised at the responsiveness they received from Merchant Corner, the owners of Read In Style moved forward with developing a new ShopSite store with the goal of maintaining the aesthetic design while solving their time problem.
While they were interested in modernizing the look and feel of the site, their primary goal was to improve the functionality so that they could spend less time updating and uploading products and more time helping customers and diversifying their business.
READ IN STYLE LIKES MERCHANT CORNER
Because they have been so happy with Merchant Corner's solutions, they've recommended them to a number of colleagues and clients. Merchant Corner has also helped them design additional shopping sites that fuel their other passions, and because it is all so simple to manage, they have time to enjoy life without spending every minute in front of the computer.
Even with the impact of the economy on every industry, Read In Style has been able to maintain market share and enjoy top ranking on Google for their most important keywords.
SOLUTIONS IMPLEMENTED
Back-end Functionality
The owners of Read In Style needed the back-end maintenance of their site to be simple enough they could delegate the tasks and fast enough to be cost effective without compromising functionality. They needed to be able to quickly and easily update products without disruption of the site. Merchant Corner provided them with a design that was simple enough to use they were able to delegate the task and expend their energies in other areas of the business.
Laser focused optimisation
"There are no 'good' niches," explains Read In Style owner Cassia Cogger. "There are only well optimized, well designed websites."
Cassia's goal was to fully optimize the shop in order to achieve the highest possible ranking. She knew that the first step to being successful was getting ranked as high as possible on search engines. Merchant Corner's e-commerce solution is designed to achieve an advanced level of optimization by ensuring that the optimized text is loaded before the source code. The customers see nothing but an easily navigable, well designed, aesthetically pleasing site, but in the background, Merchant Corner's solution allows the website to communicate more effectively with search engines in order to quickly climb.
... INCREASE in annual sales.
... REDUCTION in ongoing store maintenance costs.
Significant increase in ranks for top keywords.
Brought maintenance costs to a profitable level.